UNICEF Rights Respecting School
Acacias Rights Respecting News
Our pupils have put together an Acacias Rights Respecting Newsletter - "written by the pupils, for the pupils".
'The Pupil Voice' - Issue 1 - November 2018
Our Rights Respecting Journey
Acacias is on a very special journey to become a UNICEF Rights Respecting School. We already have our Bronze award and are now well on the road to Silver!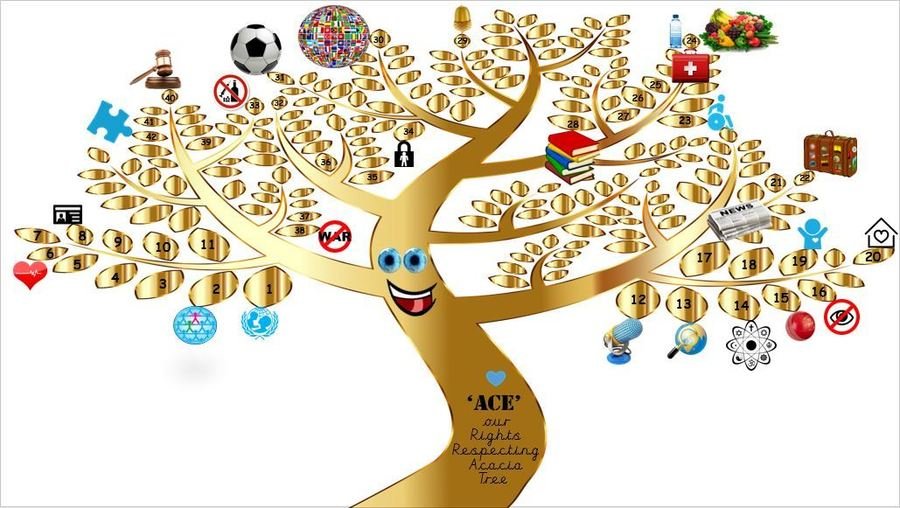 Here is 'ACE' our Rights Respecting Acacia Tree
1.5 million children in the UK go to a Rights Respecting School and more than 4,000 schools up and down the country are working towards the award. Manchester now has 69 schools involved in the programme, with a 53% increase in uptake during 2017 – including Acacias.
To see why, watch this short film: https://www.youtube.com/watch?v=AH8LIQsiM8o
UN Convention on the Rights of the Child
The United Nations Convention on the Rights of the Child (CRC) is the basis of all UNICEF's work and its principles lie at the heart of the Rights Respecting Schools Award. Using the CRC as a guide, UNICEF work with more UK schools than almost any other organisation. It is the most complete statement of children's rights ever produced and is the most widely-ratified international human rights treaty in history.
The CRC has 54 articles that cover all aspects of a child's life and set out the civil, political, economic, social and cultural rights that all children everywhere are entitled to. It also explains how adults and governments must work together to make sure all children can enjoy all their rights, whatever their ethnicity, gender, religion, language, abilities or any other status.
Here is our school song written and performed by Mr Malies and one of our talented pupils
Verse 1 ​
Article 2: Every child across the world has all these rights​
It doesn't matter if your skin colour is brown, black, purple or white​
They should not be let out of our memory or our sight​
Chorus ​
'Cos we have rights​
'Cos you have rights​
'Cos they have rights​
Cos after all we're rights respectful​
Verse 2 ​
Article 12: the right to a voice and to get involved​
We can talk to an adult that we trust to help get our problems solved​
Article 1: we have these rights 'til we're 18 years old​
Chorus ​
Bridge 1 ​
And all of those in school that stand beside us​
Now know that all these rights help to define us​
We shouldn't be harmed, should be looked after and kept safe​
'Cos we now know…​
Verse 3 ​
Article 28 is your right to an education​
Learning should be available to children of all nations​
Article 17 we have a right to honest information​
Chorus ​
Verse 4 ​
Article 31 is the right to relax and play​
Luckily, we get the chance in school to do it every day​
Adults are our duty bearers, helping us along the way​
Chorus ​
Bridge 2 ​
But there are those who're suffering through war​
Child refugees who can't take any more​
They need protection and the right to Article 24 ​
'Cos we now know…​
Outro Chorus ​
That we have rights.​
That you have rights​
That they have rights​
And after all we're rights respectful