Welcome to the Early Years Foundation Stage
Reception Blue Reception Yellow
Teacher - Miss H Burke Teacher - Mr P Edwards
Teaching Assistant - Mrs H McDonagh Teaching Assistant - Miss K Smith, Miss E Oswell
Miss K Streeter
Other EYFS Staff
Miss S Baddoo
Reception After School Club - June 2021
The children have had fun learning about different textures and pattern in nature. They went on a treasure hunt to collect leaves and used clay to make patterns.
Experiential Learning:
We offer our children lots of experiential learning opportunities as we believe this is one of the best ways to learn. Take a look at what we have been up to...
Reception made beautiful art for the Burnage Spring Trail!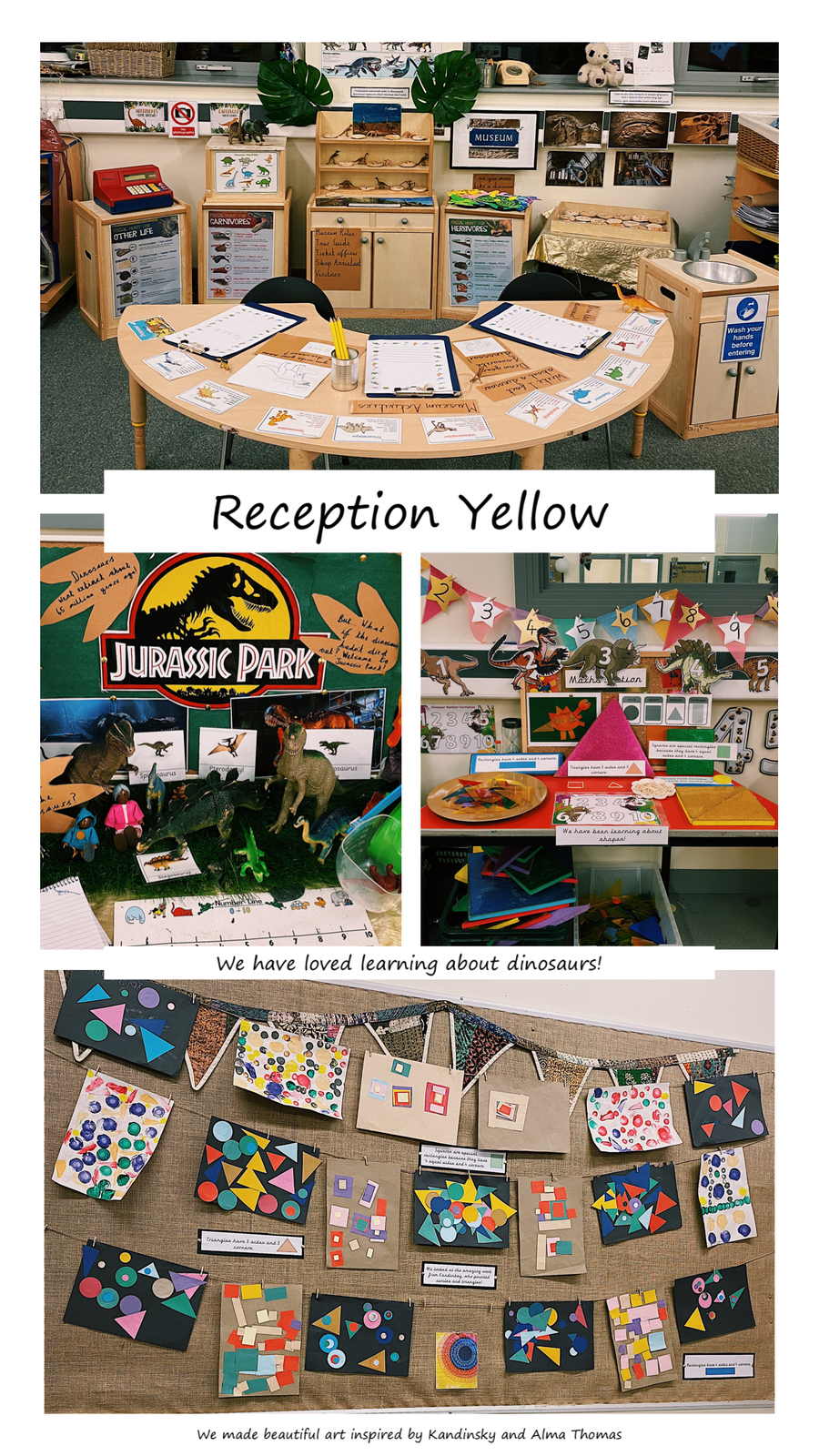 Here is the presentation from our Phonics meeting for parents. We have added more activities for you to try at home.
Learning in the Early Years Foundation Stage (EYFS)
In Nursery and Reception, we follow the EYFS framework which sets out the learning and development stages for children as they grow from birth to five years.
Children engage in a mix of adult led and child initiated activities. Where possible, we base the children's learning on their interests, which inform our topics
Outdoor Learning
In the Early Years Foundation Stage the children can access the provision outside. We believe there's no such thing as bad weather, therefore we play outside in all types of weather, even rain! Please ensure your child has a waterproof coat and wellington boots which they can keep on their peg.
As the weather turns colder, please ensure you are providing your child with a warm, waterproof coat, a hat, mittens and wellies to wear at school. Please ensure all items are clearly labelled with your child's name. We will be continuing to use the outdoor learning environment throughout the winter!
This year the children in Reception will partake in a weekly outdoor session. During the session they will learn how to make a den, search for bugs, play group games, observe the natural environment and have fun whilst playing in the great outdoors! Please ensure your child has warm, waterproof clothing and footwear suitable for the weather.
Reception
In English we will be continuing to learn vocabulary linked to our topic, exploring books and developing our early reading skills. We will be developing our writing skills and starting to practise our cursive handwriting. The children will be encouraged to apply their phonics knowledge in both reading and writing during these lessons.
In mathematics we will be practicing using our maths knowledge independently to solve problems. For example, doubling to find the correct recipe for a fruit smoothie. We will be learning about 3D shapes and continuing to develop our mathematical vocabulary linked to length, height, weight and capacity.
In phonics many of the children will be continuing to learn phase 3, practising recognising any digraphs (two letters which make one sound) in words and applying this knowledge to write. Some of the children will also be introduced to phase 4, where they will learn blends (2 or 3 letters which are difficult to distinguish e.g. lp, st, cr.) The children will also be learning lots of tricky words; the, to, I, no, go, he, she, we, me, be, they, you, are, was.
Important Days - Reception
Homework will be given out on Friday and must be returned by the following Wednesday. If your child needs help with their homework, please speak with their class teacher before the return day.

PE is on a Friday. Please ensure your child has shorts, t-shirt, trainers and something warm for outdoor PE such as a tracksuit.

Reading books will be changed every Monday. Please ensure that you have left a comment in the reading record each time your child reads at home.