Writing
Our English co-ordinators are Mrs Rider and Mr Sheldon. Please click here to view our English policy.
Talk for Writing
"If you can't say it, you can't write it!"
http://www.talk4writing.co.uk/
Acacias is now using Talk for Writing as a teaching strategy to develop children's speaking and listening, and subsequently their writing.
There are three stages to the teaching strategy: imitation, innovation and invention/independent application.
For information from our Talk for Writing Coffee Morning, please see the parents section of the website.
The three stages of Talk for Writing
Imitation
The children learn a text as a 'story map' for fiction or a 'text map' for non-fiction. During this stage, they are immersed in role playing the text, playing word and sentence games linked to the text, ordering the text and any other learning that will support their understanding of that particular text. Here is an example of a story map: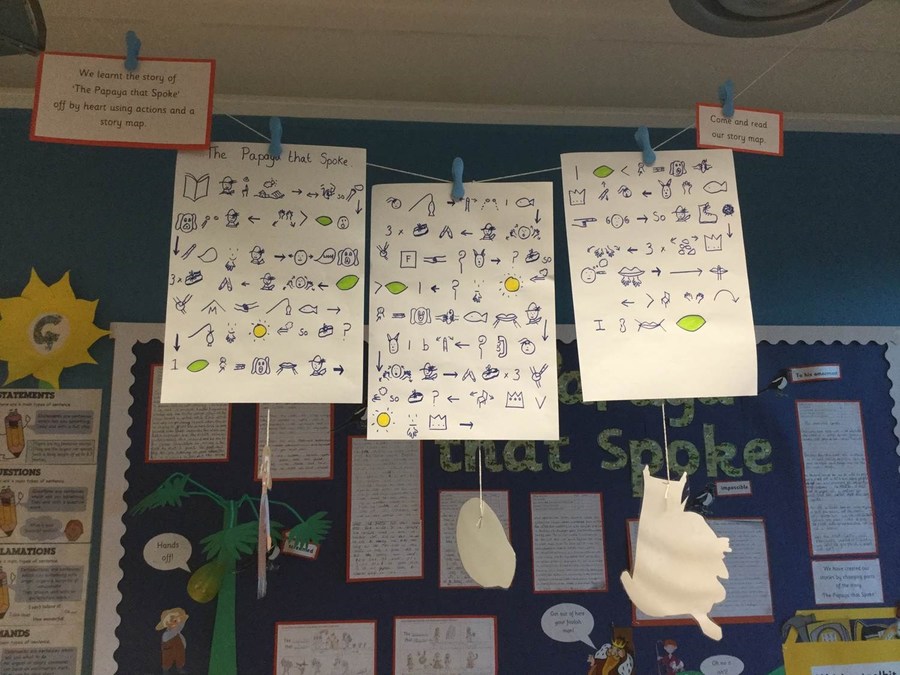 Innovation
The children can then use their story map (fiction) or text map (non-fiction) to change parts of the story map. In EYFS/KS1, they might change the characters or the setting. As well as changing these, the older children in KS2 will change the language and sentence structures as well as the parts of the story plot (characters and setting).
This is an innovated story map in Year 1. The children changed the Enormous Turnip to the Gigantic Banana, and used post it notes to change parts of the text. Then they retold their new story using the map, before writing from it.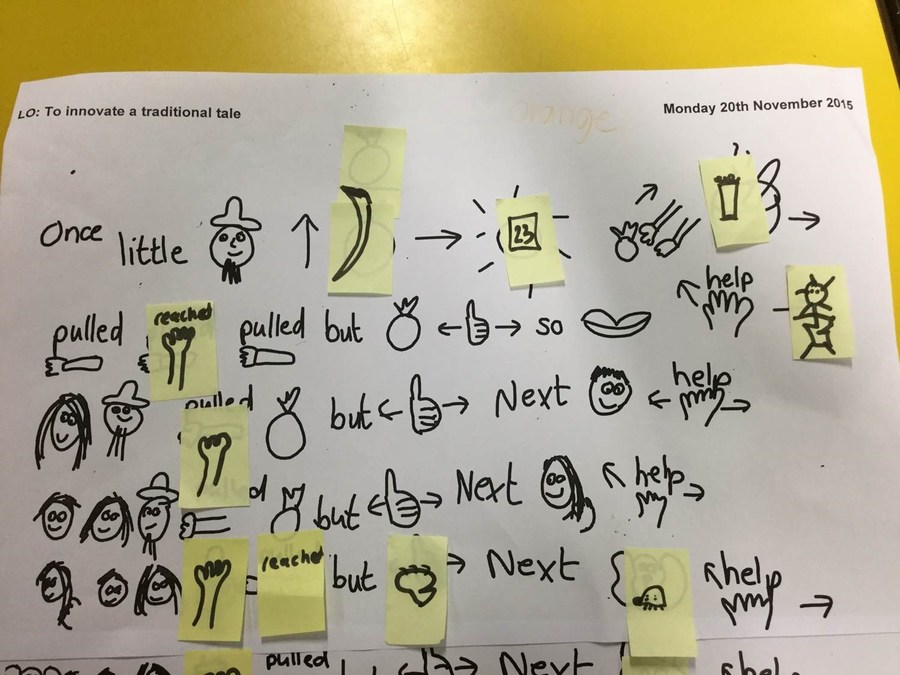 Invention
During the invention stage, children use what they have learned within their imitate and innovate phases to invent their own text, based around the learnt text. They apply their new skills to independent writing.
During the imitation and innovation stages, the children build up genre specific 'toolkits' e.g. the features of an explanation text or a fairytale that they need to use in addition to their 'writing toolkit.' In the final stage of writing, they may take part in more role play/speaking and listening to create a new text based on the skills that they have built up for the original text. Then they will use both of their writing and genre specific toolkits to write an 'invented' piece of writing for fiction or 'independent application' for non-fiction. They have more freedom to write creatively at this stage and the scaffolds that have been provided during the imitation and innovation stages support them to write more freely with the correct features.
Toolkits
Throughout the school, each year group has a general 'writing toolkit' that tells them what they need to include in all of their writing (based around the national curriculum spelling, punctuation and grammar objectives).
Here are our toolkits at Acacias: